Plans to clear old tailings on Bulldog Mountain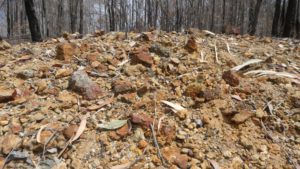 How can you tell a "Green Miner" from a conventional miner? "A Green Miner is convinced that man-made climate change is a scientifically proven fact and would not apply for a coal-mining-lease these days" says Hans-Werner Kummerow from Germany, who was granted an Exploration License for Group 1 Metals in the Drake Volcanics between Casino and Tenterfield in fall of 2019.
He admits, "that scientists have not always been right throughout history," but says "mounting evidence" has caused the German Government to adopt legislation that is designed to phase out all coal mining activity in Germany by 2038. In order to help the automotive industry to shift from fossil fuel to electric fuel he is exploring for battery metals and copper in Australia and Canada.
When exploration work started, several hundred cubic meters of old tailings have been discovered near the former "Just in Time Mine" that were mined more than 50 years ago and were left behind by early miners. Several Ewingar residents, who are very concerned about preserving the beautiful forests and waters of the upper Clarence River Catchment have asked Mr. Kummerow, whether he would be willing to remove the old tailings to prevent acidic washout from these old ore piles.
After assaying work, which has shown that there is still some metal left inside the old tailings, Mr. Kummerow has now filed for a permit to remove the old ores from Bulldog Mountain. He believes that the proceeds from processing the ores may cover the expense for hauling the ores about 600 km by truck to a mine in central NSW where the ores can be processed in an existing mining operation. He is planning to haul about 100 truckloads to test the economical outcome of this process after permission to remove the ores has been granted.
Responsible: Hans-Werner Kummerow, Mobile: ‭+49 160 5955910‬